Manufacturing Industries and R & D Labs are dedicated to the engineering of plastic products and components from conception through the design process, including prototyping  and testing, to manufacturing and validation, as well as  service issues that sometimes arise thereafter.  Our staff members continue to expand their knowledge of the markets of our customers.  Our commitment to our customers goes beoynd manufacturing their products.  That we already do well. We get involved with your product, looking for potential improvements, even new product ideas. We want to be experts on your products. Your success means our success.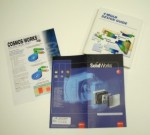 With our up to-date 3D Solid Modeling software we can check not only the size of a part but also the fit too, and interactions with other component parts. This ability allows us to do a careful review of the finished design before tooling is started.
Manufacturing Industries can do more than just design and engineer your plastic components.We have the expertise to do the complete development of a product including non-plastic components.We interface with industrial designers, sales, marketing, and production personnel to deliver a complete package.

Along with the  design software mentioned above, R&D Labs' engineers have on hand the software to do a complete FEA (finite element analysis) of the part within a computer model. This includes mold flow analysis for tooling and processing needs.  Such anaytical techniques, coupled with the knowledge of the thermomechanical behavior of plastics materials provided by the engineers from R&D Labs,  allows us to know beforehand what kind of stress and deformation a part is going to experience in its application environment.  This approach can greatly shorten the time to market for new products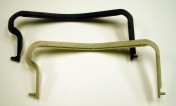 With all the modern tools available today there is a tendency to underestimate the need for solid engineering expertise. The staff of engineers at Manufacturing Industries never leaves the final design decisions up to the computer.  They work hand-in-hand with your staff to insure that a reliable product is shipped to the market.